An article: Common questions about AAC services in early intervention
Date of post : 05/06/2015 18:00:31
This article was written by two American researchers: Cynthia Cress and Christine Marvin.
Cynthia Cress is an Associate Professor at the Wisconsin-Madison University. She is a specialist in language development and impairments. She works on early intervention and the use of augmentative and alternative communication (AAC) to help children with language impairments.
Christine Marvin is a Professor at Nebraska-Lincoln University. She is also a speech-language pathologist and works on the effects of context on the development of communication in young children and its implications on early intervention.
In this article published in 2003, the two authors explain that AAC systems include physical tools (pictures, vocal synthesis,...) as well as manual gestures or behavioral adaptation of the interlocutor. They are sometimes used without even knowing it but can also be used voluntarily as soon as the child is born to stimulate communication and prevent communicative difficulties from settling and altering speech.
According to the authors, it is important that parents and professional caregivers are able to identify the child's communicative behaviors in order to stimulate them and favor their development. Parents and professionals can learn to adapt their behavior to augment their child's communication: social adaptation is a form of AAC.
This article is important because it argues against wrong common ideas on the use of AAC which have certainly had negative effects of the development of children who have communicative impairments due to sensory, motor or cognitive deficiencies. These wrong common ideas are still too present: many people still say "if my child uses AAC, he will not learn to speak".
Based on a review of the litterature, the authors provide arguments and indications especially concerning:
a use of AAC as early as the child's first interactions without waiting for any pre-requisits;
the fact that AAC does not interfere with speech development but, on the contrary, favor spoken language acquisition by facilitating interaction and language skills. Moreover, it is impossible to know in advance wether a child will speak or not. One should not wait and see wether she does not manage to speak to provide her with a communicative mean;
vocabulary learning based on use (e.g. not waiting to be sure the child understands to teach her).
The authors also explain why the child can sometimes use AAC in an unadapted way and why it is necessary to let her explore the system freely. This article thus provides numerous answers to very common questions on communicative impairments in children and gives directions to parents and professionals towards a pragmatic approach of a potential or diagnosed impairment.
Considering our own discussions with parents of children with Down Syndrome during our interventions, we wonder how we could help parents be more confident, especially when their child gives them the impression to be locked in an alternative communication method or not to improve anymore. This is a question researchers will have to consider.
Complete reference:
CRESS, Cynthia J. et MARVIN, Christine A. Common questions about AAC services in early intervention. Augmentative and Alternative Communication, 2003, vol. 19, no 4, p. 254-272.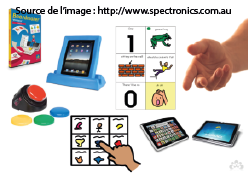 Keywords :
Linked comments
Information
Pas d'info perso